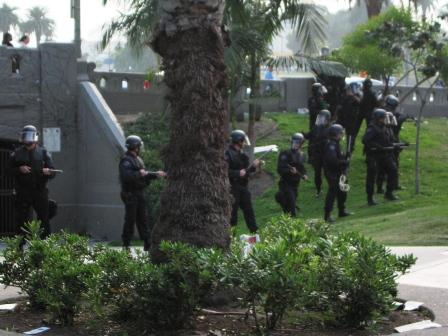 This is from a facebook event:
We will be showing a great film at the firehouse.
March 3rd at 7pm (sorry we didn't have the details up sooner- that was an oversight).
"We're Still Here, We Never Left" is a new documentary by the Revolutionary Autonomous Communities out of Los Angeles. The film documents the truth about the police repression on May 1st, 2007, and also shows the growing popular movement in oppressed communities. Police brutalized activists and journalists at an immigrants rights demonstration in MacArthur Park. The film includes footage never released to the mainstream media!
There will be a donation jar for the Arpaio 5 (actually 3) so you can help out with legal fees. And a donation jar for the Revolutionary Autonomous Communities.
There will be discussion afterwards. Lets talk about how this relates to what happened at the Arpaio Protest here in Phoenix.
"After the march and police repression, the police blamed a small group of agitators, who were young, anarchists and in Cop Watch LA. They used labels like anarchist to divide the movement, and to isolate the youth from the rest of the community. At the same time they tried to wipe their hands clean of their assault. We heard stories from local residents that they saw the police practicing and preparing before the march by McArthur Park (where the attacked occurred). This attack was premeditated by the LAPD and the state because they wanted to intimidate the families that were out there marching. They wanted to beat their message into people that they should not dare to stand up to the system. The reality is that these fascists are afraid of the growing movement and the potential of a revolutionary popular movement for human rights, so they had to attack it. Again, this wasn't a surprise to us." -Joaquin Cienfuegos
http://joaquincienfuegos.blogspot.com/2008/06/checking-non-profit-industrial-complex.html
See the trailer: